Early Childhood Camps
Ages 3-5* | Offered at ImaginOn
*Campers must be 3 by the first day of camp, and be fully potty-trained!
Camps meet Mon - Fri, 9 AM - 12 PM | Tuition $185
Our 1-week, half-day camps provide a fun experience in music, art, creative play, and storytelling for our youngest campers. Classrooms are transformed into imaginative worlds for each theme, engaging campers on every sensory level. Each week closes with a sharing of activities and stories for family and friends. Information below is from our 2023 camps so parents can view the types of camps, and camp content we offer. 2024 Summer Camps will go on sale for our donors ($500+ level) on Wed, Jan 17; and for season subscribers and current education families on Fri, Jan 19. Registration will open to the general public on Fri, Jan 26.
Once Upon A Time
Travel to a magical land far, far away where fairytale friends sing, dance, and play.
Barnyard Boogie
Neigh, quack, oink, and moo, down in the barnyard two-by-two! Get ready for some good ol' down on the farm fun.
Dino-Might!
One, two, three, four - march with all the dinosaurs! Join us this week for some prehistoric dino-rama.
Tiny Tales
Heed the call for all things small! Wander through the forest with all your favorite woodland creatures on a big adventure of tiny proportions.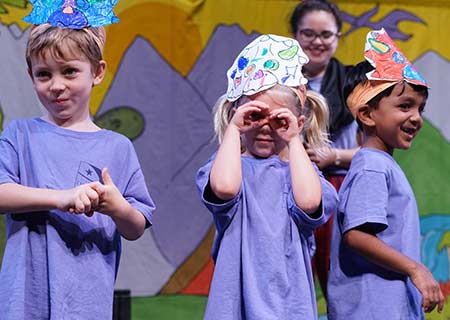 Additional Information