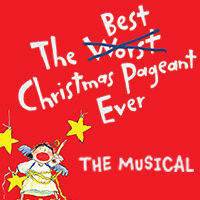 The Best Christmas Pageant Ever: The Musical
Nov. 23 to Dec. 29, 2018
McColl Family Theatre
Recommended for all ages
By Jahnna Beecham & Malcolm Hillgartner Adapted from the book by Barbara Robinson
Stocking Stuffer Special!

Beginning Monday, Dec. 24, use Promo Code

BCPE5OFF

for $5 off tickets for any performance in Section A and B. Now through Dec. 29!
Looking for the perfect family outing for the holidays? Back by popular demand is Children's Theatre of Charlotte's most-popular show of all time! The Herdmans are ready to wreak havoc! What happens when the "worst kids in the history of the world" find out about free food at Sunday school? Worse yet, what happens when they decide to audition for the annual Christmas pageant? This could be the worst pageant ever… if it even happens! This hilarious and heartfelt musical comedy, adapted from Barbara Robinson's classic story, will have your family laughing and crying as we celebrate the holidays. In this production, Children's Theatre of Charlotte casts age-appropriate roles, many of whom are from its School of Theatre Training, who perform alongside our professional adult cast. We hope you'll make this show a part of your family's holiday traditions!
Theatre 360 Info

Theatre 360 extends the theatre experience with special programs tied to each production, from cast meet-and-greets to workshops and backstage tours. We also create a Resource Guide for each production, with background information on the production and creative activities for before and after the show.