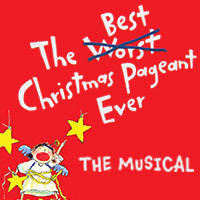 The Best Christmas Pageant Ever: The Musical
Nov. 29 - Dec. 29, 2019
McColl Family Theatre
Recommended for all ages | One-Act, approx. 70 minutes
By Jahnna Beecham & Malcolm Hillgartner
Adapted from the book by Barbara Robinson
Ring in the holiday season with Children's Theatre of Charlotte's most-popular show of all time!
The Herdmans are ready to wreak havoc! What happens when the "worst kids in the history of the world" find out about free food at Sunday school? And what happens when they decide to audition for the annual Christmas pageant? Will the show go on? This hilarious and heartfelt musical comedy, adapted from Barbara Robinson's classic story, will have your family laughing and crying as we celebrate the holidays.
Themes
: community, traditions, belonging, empathy
Learn More:
► Show Playbill
|
► Theatre 360 Experiences
|
► Show Resource Guide
|
► Pinterest Activities
Last Minute Stocking Stuffer Sale!
Now through Dec. 29 save $5 on Section A & B tickets - use Promo Code BCPE5OFF when odering to unlock your savings.