Annie
Book by THOMAS MEEHAN
Music by CHARLES STROUSE
Lyrics by MARTIN CHARNIN
Original Broadway Production Directed by MARTIN CHARNIN
Based on "Little Orphan Annie"® | By Permission of Tribune Content Agency, LLC
Annie is presented through special arrangement with Music Theatre International (MTI). All authorized performance materials are also supplied by MTI. www.mtishows.com
The Tony Award-winning musical uplifts hearts and inspires change.
Sept 23 - Oct 23, 2022 | McColl Family Theatre | For all ages | 2 hours with intermission
Set in New York City against the backdrop of the Great Depression, little orphan Annie does her best to hang on 'til tomorrow come what may. After enduring hardship at the hands of evil Miss Hannigan, a new family breathes hope into the heart of everyone's favorite spunky hero.
Themes: Hope, justice, optimism
Catch
Annie
live on stage at Children's Theatre of Charlotte. It's fun for the whole family. See right sidebar (or below on mobile devices) for more special activities for kids.
Rehearsal Sneak Peek
View Playbill
---
Learn More
2022-23 Subscriptions now on sale!
Save 20% off single ticket prices by bundling 3 or more shows. Click on a date below to see show times.
---
Youth Casts
Annie
features two youth casts who alternate peformances. To view the casts, click on the links below. Note: 10 AM performances are school field trips and not for public sale.
| Date | Time | Cast |
| --- | --- | --- |
| Thurs, Sept 29 | 10 AM | Purple |
| Fri, Sept 30 | 7:30 PM | Yellow |
| Sat, Oct 1 | 11 AM & 4 PM | Yellow |
| Sun, Oct 2 | 1 PM & 6 PM | Yellow |
| Wed, Oct 5 | 10 AM | Yellow |
| Thurs, Oct 6 | 10 AM | Yellow |
| Fri, Oct 7 | 10 AM & 7:30 PM | Yellow & Purple |
| Sat, Oct 8 | 11 AM & 4 PM | Purple |
| Sun, Oct 9 | 2 PM | Purple |
| Wed, Oct 12 | 10 AM | Purple |
| Thurs, Oct 13 | 10 AM | Purple |
| Fri, October 14 | 10 AM & 7:30 PM | Purple & Yellow |
| Sat, October 15 | 11 AM & 4 PM | Yellow |
| Sun, October 16 | 2 PM | Yellow |
| Wed, October 19 | 10 AM | Yellow |
| Thurs, October 20 | 10 AM | Yellow |
| Fri, October 21 | 10 AM & 7:30 PM | Purple |
| Sat, October 22 | 11 AM & 4 PM | Purple |
| Sun, October 23 | 2 PM | Purple |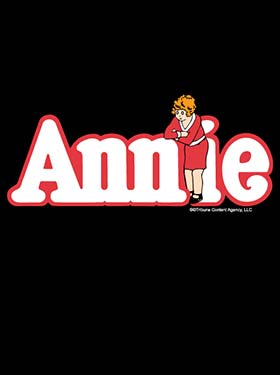 Links & Resources
Producing Partner