Don't Let the Pigeon Drive the Bus!
Based on the book by Mo Willems
Published by Hyperion Books for Children
Script by Mo Willems and Mr. Warburton
Lyrics by Mo Willems
Music by Deborah Wicks La Puma
Dramaturgy by Megan Alrutz
Buckle your seat belts for this fun-filled adventure!
April 8 - May 7, 2023 | McColl Family Theatre
1 Act, approx. 60 minutes | For ages 4+
When a persistent pigeon decides he must drive the bus, he'll stop at nothing to get behind the wheel. Laugh your way through and get ready to shout "No!" as celebrated author Mo Willems' award-winning book comes to life on stage.
Themes: Responsibility, persuasion, accountability
---
Learn More
Subscribe and Save!
Save 20% off single ticket prices by bundling 3 or more shows. Click on a date below to see show times.
---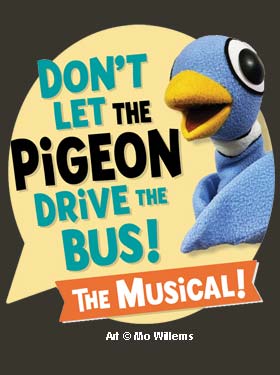 Special Activities
Sat, April 8
2 PM - Backstage tour
1:30 PM - Craft in Spangler
Demonstration post-show (3 PM show)
Links & Resources