Don't Let the Pigeon Drive the Bus!
Based on the book by Mo Willems
Published by Hyperion Books for Children
Script by Mo Willems and Mr. Warburton
Lyrics by Mo Willems
Music by Deborah Wicks La Puma
Dramaturgy by Megan Alrutz
Buckle your seat belts for this fun-filled adventure!
April 8 - May 7, 2023 | McColl Family Theatre
1 Act, approx. 60 minutes | For ages 4+
When a persistent pigeon decides he must drive the bus, he'll stop at nothing to get behind the wheel. Laugh your way through and get ready to shout "No!" as celebrated author Mo Willems' award-winning book comes to life on stage.
Themes: Responsibility, persuasion, accountability
View Playbill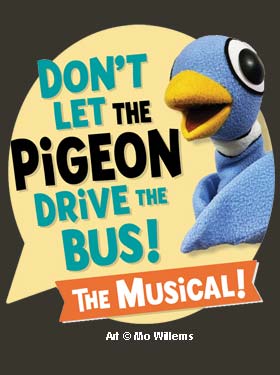 Special Activities
Ongoing
Many Library branches are offering themed programming around the show. ►Click here for more information
BookWalk - Self-guided "scavenger hunt." Explore ImaginOn and discover the pages of Don't Let the Pigeon Drive the Bus! by Mo Willems located in frames around the building. Library staff can offer clues or hints, and prizes are available at the Spangler desk for participation, regardless of completion.
Infinity Birdhouse - Explore this unique art installation by Ali Loncar-Bridges, also part of Charlotte SHOUT!
Links & Resources