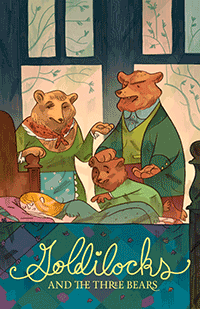 Goldilocks and the Three Bears
WORLD PREMIERE!
Jan. 14 to Feb. 4, 2017
Wells Fargo Playhouse
Recommended for preschool to age 6
Written by Mark Sutton
Reminiscent of a silent film, this non-verbal adaptation of the fairy tale follows the Bear family as they grunt and snort through their daily routine. Mama and Papa prepare breakfast together while Baby Bear giggles at his parents' clumsy routine. When the family heads out for a walk in the woods, in comes Goldilocks — a wild, untamed child with no family of her own. She explores the house, tries the porridge, breaks furniture and, ultimately, falls asleep, exhausted from her rambunctious adventure. What will happen when the family returns to find someone sleeping in its messy house? Lively music helps tell the story in this 35-minute show which teaches children that just because you're different, doesn't mean you can't be friends... or, better yet, become family.

This show is available in our subscription packages.
Click here for details.