Summer Teen Studios
Rising 7th - 12th Grade | Offered at ImaginOn and CPCC - Levine Campus (Matthews)
Camps meet Monday - Friday, 10:30 AM - 5:30 PM + added hours on show days for 2-week Studios | Tuition $350-$650
Our 1-week and 2-week studios offer teens an exciting and challenging experience in either performance or technical theatre training. Camps and productions are directed by professional theatre artists. Information below is from our 2023 camps so parents can view the types of camps, and camp content we offer. 2024 Summer Camps will go on sale for our donors ($500+ level) on Wed, Jan 17; and for season subscribers and current education families on Fri, Jan 19. Registration will open to the general public on Fri, Jan 26.
1-Week Studios
A Taste of Broadway (Musical Theatre Intensive)
Be our guest! Be our guest! Campers will indulge themselves in our three courses of acting, voice, and movement. Let's serve it up with a cherry on top!
Villains on Broadway (Musical Theatre Intensive)
Campers rehearse scenes, songs, and choreography from the most iconic villainous characters to ever appear on Broadway. Who knew it would feel so good to be bad!
"Insert Funny Title Here" (Acting Intensive)
Find the funny fast, as campers dive into techniques for sketch comedy and short-form style improvisation. This week culminates with a side-splitting showcase of scenes and games for the stage.
Behind the Scenes (Tech)
Campers explore and apply basic technical theatre skills which may include props, scenic painting, costumes, and stage management. Additionally, they serve as the run crew for the week's Teen Studio showcase.
---
2-Week Studios
Cyrano is king of the local BurgerShack, but he can't seem to win the love of his best friend, Roxanne. When Roxanne confesses her crush on the new burger-flipper, Christian, Cyrano decides that playing Cupid is better than sitting out of the game ... with hit, contemporary pop songs that will win all our hearts!
Disney's Descendants: The Musical (Musical)
Presented through special arrangement with Music Theatre International (MTI). All authorized performance materials are also supplied by www.MTIshows.com.
When the four troublemakers, teenage children of infamous Disney villains, are sent to attend prep school alongside the children of beloved Disney heroes, they have a difficult choice to make: should they follow in their parents' wicked footsteps or learn to be good?
Shakespeare's A Midsummer Night's Dream (Acting)
Welcome back to camp, William Shakespeare. Love looks not with the eyes, but with the mind, And therefore is winged Cupid painted blind.
Behind the Scenes (Tech)
Campers help with all technical elements for the ImaginOn Teen Studio performances of Shakespeare's A Midsummer Night's Dream, Cyrano de BurgerShack JV, or Disney's Descendants: The Musical. Teachers guide them through the process of design, build, and rehearsal for each production. Additionally, campers serve as the run crew for public performances. Dates and times are the same as their corresponding production: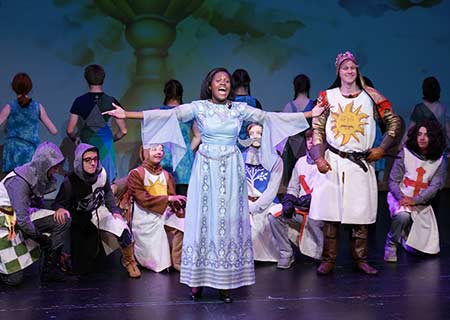 Additional Information