Volunteer Ushers |
Get Involved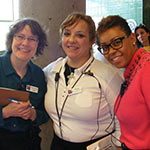 Do you enjoy working with children and the public?
Would you like to contribute to an extraordinary cultural environment?
Are you a student looking for a fun way to serve your community?
Are you a business that is looking for a community involvement opportunity?
If you answered
YES
, then our
Volunteer Usher Program
might be perfect for you!
Volunteer ushers are a vital part of the Children's Theatre of Charlotte family. Whether seating a classroom of kindergarteners about to enjoy their first live theatre performance or helping a family of six find seats during opening night excitement, ushers ensure that Children's Theatre of Charlotte patrons enjoy the very best experience possible during their time with us.
Ushering is also a great community service opportunity for groups. Volunteers learn what goes into running a theatre while honing their interpersonal, communication and leadership skills. We help keep track of volunteer hours, complete necessary paperwork and help volunteers get the most out of their experience.
Ushers are needed for School Performances on weekday mornings and for Public Performances during the weekend. Ushers should arrive one hour before show times and should expect to remain throughout the entire performance. Ushering is a three to four hour time commitment per performance.  
You can usher with your child*
"...being able to bring [my son] to help me usher has been the best experience ever! He lit up like a Christmas tree last week, eager to assist everyone in finding their seats. I was a proud mama watching him walk up to each patron and speak so confidently as an eight year old. What a valuable skill to develop so early! And we loved Bud, Not Buddy!"
— Jenn Engel, volunteer usher
*We welcome children ages 8-11 with an accompanying adult; children 12 and up may usher independently
New to Us? Apply Now


Usher benefits
Watching children and families experience the magic of live theatre!
Enjoying the performance when not assisting patrons.
Supporting one of the top youth theatres in the country.
One complimentary ticket for every three ushering shifts!
Signup Genius
We use a secure online system called Signup Genius to help manage volunteers. This system is a great resource for volunteers, too, and allows reminders and other communication to be sent to you automatically by e-mail. 
Make a Donation
Individual Giving
Join the Jester Society
Join ENCORE!
Corporate Giving
---
For questions about individual or corporate giving, please contact:
Spencer Clair, Director of Advancement
704-973-2801 | email
Join our E-Club
Audition
Employment & Internships
Volunteer with Us
---
2018-19 Annual Report (PDF)
IRS Form 990 (PDF)