Theatre 360 | Extending the theatre experience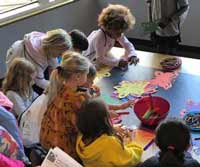 Theatre 360 provides a way to interact with Children's Theatre of Charlotte productions by extending the theatre experience for families and providing access to all! Best of all, many programs are free. One of our most popular events, Education Nights invite families to join the teaching artists and staff for a night full of backstage tours, workshops and a great show!
Families enrolled in our education programs receive special discounts to these performances.
Audi​ence Engagement
Interactive experiences located around the ImaginOn building are available from the first public performance of a production through the entire run of the show.
Education Nights
Buy tickets for select shows and join your Teaching Artists for a night of FREE backstage tours and workshops offered before and after the performance.
Past Events
A Sick Day for Amos McGee
| | | | |
| --- | --- | --- | --- |
| Activity | Location | Date | Time |
| Storytime Character Visit | Spangler Library | Sat., Aug. 24 | 10:30 am |
| Production Design Display | Wells Fargo Playhouse lobby | Aug. 21 - Sept. 1 | Open hours |
| Self-Guided Activity | Wells Fargo Playhouse lobby | Aug. 21 - Sept. 1 | Open hours |
---
Peter Pan
Activity
Location
Date
Time

Story Explorers Workshop w/ Spangler Library

The Round

Sat., Oct. 5

2:00 pm

Education Night:
backstage tour, pre-show activity, post-show demonstration

Welcome Desk & McColl Family Theatre

Fri., Oct. 11

6:30 pm (backstage tour) + pre/post show activities

Storytime Character Visit

Spangler Library

Sat. Oct. 12

10:30 am

Cast Meet and Greet

Story Jar area

Sat. Oct. 12

6:00 pm

Sensory Friendly Performance

McColl Family Theatre

Sun., Oct. 13

7:00 pm

Production Design Display

McColl Family Theatre lobby

Oct. 1 - Nov. 3

Open hours

Photo Opportunity

Page Stage

Oct. 1 - Nov. 3

Open hours

Self-Guided Activity

Spangler Library

Oct. 1 - Nov. 3

Open hours
---
The Invisible Boy
Activity
Location
Date
Time

Story Explorers Workshop w/ Spangler Library

The Round

Sat., Nov. 2

2:00 pm

Author & Illustrator Visit
Part of Charlotte Mecklenburg Library's EpicFest

Spangler Library

Sat., Nov. 9

Noon (after 11:00 am show)

Sensory Friendly Performance

Wells Fargo Playhouse

Sun., Nov. 10

4:00 pm

Storytime Character Visit

Spangler Library

Sat., Nov. 16

10:30 am

Education Night:
backstage tour, pre-show activity, post-show talkback

Welcome Desk & Wells Fargo Playhouse

Fri., Nov. 22

6:30 pm (backstage tour) + pre/post show activities

Cast Meet and Greet

Wells Fargo Playhouse lobby

Sat., Nov. 23

4:00 pm

Production Design Display

Wells Fargo Playhouse lobby

Nov. 4-24

Open hours

Self-Guided Activity

Spangler Library

Nov. 4-24

Open hours
---
The Best Christmas Pageant Ever
Activity
Location
Date
Time

Sensory Friendly Performance

McColl Family Theatre

Sun., Dec. 8

4:00 pm

Education Night:
backstage tour, pre-show activity, post-show demonstration

Welcome Desk & McColl Family Theatre

Fri., Dec. 13

6:30 pm (backstage tour) + pre/post show activities

Cast Meet and Greet

Story Jar area

Sat., Dec. 15

5:00 pm

Production Design Display

McColl Family Theatre lobby

Nov. 28 - Dec. 29

Open hours

Photo Opportunity

Page Stage

Nov. 28 - Dec. 29

Open hours

Self-Guided Activity

Spangler Library & Teen Loft

Nov. 28 - Dec. 29

Open hours
---
The True Story of the 3 Little Pigs
Activity
Location
Date
Time

Story Explorers Workshop w/ Spangler Library

The Round

Sat. Jan. 4 &

Sat., Jan. 11

2:00 pm

Cast Meet and Greet

Wells Fargo Playhouse lobby

Sat., Jan. 11

4:00 pm

Sensory Friendly Performance

Wells Fargo Playhouse

Sun., Jan. 12

4:00 pm

Education Night:

backstage tour, pre-show activity, post-show demonstration

Welcome Desk & Wells Fargo Playhouse

Fri., Jan. 10

6:30 pm (backstage tour) + pre/post show activities

Production Design Display

Wells Fargo Playhouse lobby

Jan. 4-18

Open hours

Self-Guided Activity

Spangler Library

Jan. 4-18

Open hours
Akeelah & the Bee
Activity
Location
Date
Time

Story Explorers Workshop w/ Spangler Library

The Round

Sat., Feb. 8

2:00 pm

Cast Meet and Greet

Story Jar area

Sun., Feb. 9

3:30 pm

Sensory Friendly Performance

McColl Family Theatre

Sun., Feb. 16

7:00 pm

Education Night:
backstage tour, pre-show activity, post-show demonstration

Welcome Desk & McColl Family Theatre

Sat., Feb. 15

2:30 pm (backstage tour) + pre/post show activities

Production Design Display

McColl Family Theatre lobby

Jan. 28 - Feb. 16

Open hours

Photo Opportunity

Page Stage

Jan. 28 - Feb. 16

Open hours

Self-Guided Activity

Spangler Library & Teen Loft

Jan. 28 - Feb. 16

Open hours
---
Grimmz Fairy Tales
Activity
Location
Date
Time

Education Night:
backstage tour, pre-show activity, post-show talkback

Welcome Desk & Wells Fargo Playhouse

Sat., Feb. 29

1:30 (backstage tour) + pre/post show activities

Storytime Character Visit

Spangler Library

Sat., Mar. 7

10:30 am

Cast Meet and Greet

Wells Fargo Playhouse lobby

Sat., Mar. 7

4:00 pm

Sensory Friendly Performance

Wells Fargo Playhouse

Sun., Mar. 8

4:00 pm

Production Design Display

Wells Fargo Playhouse lobby

Feb. 18- Mar. 12

Open hours

Self-Guided Activity

Spangler Library & Teen Loft

Feb. 18- Mar. 12

Open hours