Access and Inclusion
Children's Theatre of Charlotte is committed to making our facilities, programs and services accessible and welcoming for individuals of all abilities. If you have any questions about accommodations for attending our performances, participating in our classes or summer camps, or volunteering with us, please contact our box office via phone: 704-973-2828 or you may
email us
.  
Attending a performance or visiting ImaginOn
The theatres, classrooms, work areas and backstage spaces at ImaginOn are fully ADA accessible. Accessible parking is available in the parking deck below ImaginOn (accessed from Sixth Street). There is an automatic door at our main entrance on Seventh Street, and accessible water fountains and rest rooms are available throughout the building.
If you require special assistance during your visit, please consider contacting our box office in advance, via phone: 704-973-2828 or you may
email us
. This will allow us to provide the best possible experience for you and your family.
Take a virtual tour of ImaginOn and our two theatres by clicking below.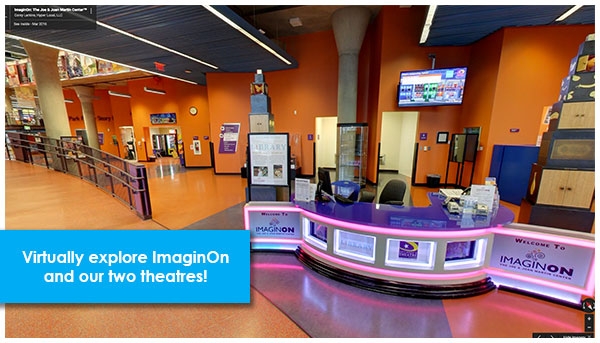 Attending classes and summer camps
Children's Theatre of Charlotte strives to create an inclusive environment for children of all abilities within our classes and camps. Open communication with families helps us create a successful environment for every child. When registering, we encourage you to note any special needs or accommodations your child may require. A member of our Education Staff may be in touch with you to discuss your child's needs and to insure a supportive environment. Please do not hesitate to contact the education department prior to your class or camp's start date to further discuss your child's needs or accommodations: 704-973-2837 or you may
email us
.
Services
ASL Sign-Interpreted Performances Learn more
Each season, selected performances will be interpreted using American Sign Language. These ASL sign language interpreted performances are noted in our season brochure.
Sensory-Friendly Performances Learn more
These shows are adjusted for families and friends with children or adults who are diagnosed with an autism spectrum disorder or other sensitivity issues.
Wheelchair access
The entire ImaginOn building, including both the McColl Family Theatre and the Wells Fargo Playhouse, is fully ADA compliant and wheelchair accessible. Any staff person, house manager or usher will be happy to direct you to accessible rest rooms, water fountains, etc.
Entry and exit assistance
A house manager or usher is available to meet patrons who need mobility assistance at the front entrance of ImaginOn on Seventh Street, which also has elevator access to the parking deck below the building. Please contact our box office for more information, or speak to any staff member upon arrival at ImaginOn.
Assistive Listening Devices
Assistive listening headsets may be checked out for any performance. Please see a house manager or usher if you would like to request a headset.
Scripts
For most productions, a copy of the script can be made available upon request one week prior to the performance date. We ask that scripts be returned to our box office following the performance.
Service Animals
If you will be attending a performance with a service animal, please inform the box office when purchasing your tickets so that we may discuss your preferred seating location: 704-973-2828 or you may email us.