Early Childhood Camps
Ages 3-5 | Offered In-person at ImaginOn and Charlotte Latin
Camps meet Mon - Fri, 9 AM - 12 PM | Tuition $160
Our 1-week, half-day camps provide a fun experience for our youngest campers integrating music, art, and creative play to explore a story. Classrooms are transformed into imaginative worlds for each theme, engaging students on every sensory level. Each week closes with a sharing of activities and stories for family and friends.
Camp Descriptions
Royal Sillies
- The king and queen request the attendance of Charlotte's finest princes, princesses, and court jesters for the Royal Sillies Ball!
Quack-A-Doodle-Moo
- Neigh, quack, oink, and moo, down in the barnyard two-by-two! Join us for good ol' down-on-the-farm camp fun.
Wild Safari
- Roar like a lion with your jungle friends as we take off together on an exotic animal adventure!
Magic Stars
- Starlight, star bright, little campers left and right! Shoot to the moon in our out-of-this-world starlight adventure.
Pick a start date to view camps offered that week:
Camp Sold Out?
Join Wait Pool
If a blue start time button is lighter in color and not active (not clickable), the camp is SOLD OUT. Join the wait pool and you will be notified if spots open up.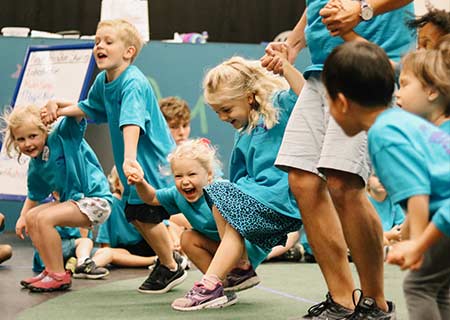 Additional Information