Tired Souls: The Montgomery Bus Boycott
Written and Performed by Mike Wiley
A single moment becomes a history-making movement that inspires change.
Oct 7-8, 2023 | Wells Fargo Playhouse
One Act, approx. 60 minutes | For ages 8+
It's December 1, 1955 in Montgomery, Alabama. Rosa Louise Parks refuses to give up her seat on a city bus to a white man. Her determination was a catalyst for change which sparked the Civil Rights movement, forever altering the course of U.S. history. Audience members become a part of this interactive show that pays homage to Mrs. Parks and those that came before her like Jo Ann Robinson and Claudette Colvin, blazing the path for racial equality.
Themes: Civil rights, pride, responsibility
---
Subscribe
Subscribe and save!
Purchase any 3 or more shows together and save 20% compared to single ticket prices.
---
View Playbill
---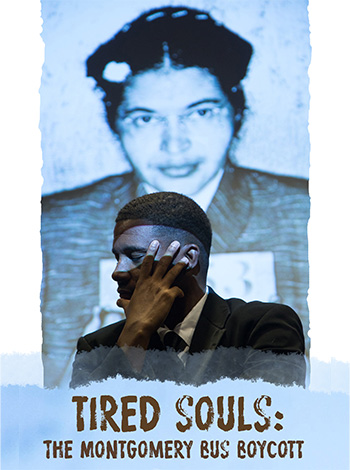 Links & Resources