Primary Camps
Rising K - 2nd Grade | Offered in person at ImaginOn and Charlotte Latin
Camps meet Mon - Fri, 9 AM - 3 PM* | Tuition $290
*Aftercare is available for Primary Camps at ImaginOn.
Our 1-week camps provide an imaginative outlet for this energetic age. Students develop foundational acting skills by rehearsing a story dramatization throughout the week while rotating through drama, dance, music and art classes. The final day of camp finishes with a sharing of stories and songs for family and friends.
Camp Descriptions
Pony Party
- Friends are sweet, magic is real, and sparkles make this dance party hard to escape!
Frosted Fairytales
- Brrrr... Escape the summer heat and come to camp this week to let it all go as we explore stories of ice and snow!
Shipwrecked!
- Ahoy mates! Let's make waves and find lost treasure as we set sail for a high adventure week on the seven seas.
Pick a start date to view camps offered that week:
Camp Sold Out?
Join Wait Pool
If a blue start time button is lighter in color and not active (not clickable), the camp is SOLD OUT. Join the wait pool and you will be notified if spots open up.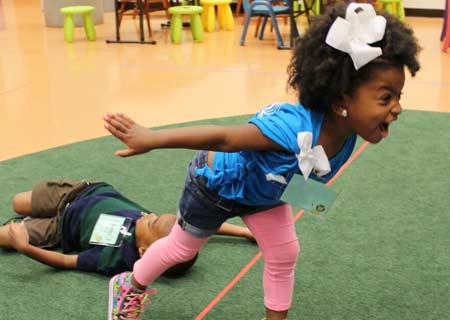 Additional Information