Resource Guides
How to Use Our Resource Guides
Our Resource Guides include information and activities to make better connections with our shows. For educators, the materials can stand alone or work as building blocks towards a complete classroom unit. All materials align with Common Core Standards and North Carolina Essential Standards. Our Pre-K shows align with the North Carolina Foundations for Early Learning and Development. Look for this symbol to denote specific ties to these standards in the guides:   
---
And for our families, we hope these guides add to your experience both before the show and beyond!
Audience Expectations
Young audiences should know watching live theatre is different than watching a movie. They can't pause or rewind, nor can they turn up the volume if someone else is talking. Encourage them to listen and watch the play.
---
But, it's also okay to make some noise! Being a young audience member is often an active effort. They may laugh and cheer for their favorite characters. Or they may applaud during or after an exciting moment. These appropriate reactions are an opportunity to thank the actors for the performance.
---
Here are some other guidelines to remember:
Respect others during the performance. Stay seated and keep your hands to yourself.
Please turn off all cell phones and other electronic devices during the performance.
Photography and video of the performance is prohibited by copyright law.
For performances at ImaginOn, we do not permit food and drinks in the theatre.
  NCES-TheaArts.(K-8).TA.CU.2: Understand the traditions, roles, and conventions of theatre as an art form. NCES-TheaArts.3.TA.CU.2.1: Illustrate theatre etiquette appropriate to the performance situation.

  Goal CD-4: Children demonstrate appreciation for different forms of artistic expression. Goal APL-8: Children maintain attentiveness and focus.
Resource Guides
Resource Guides are developed during the season and links added here as they are completed: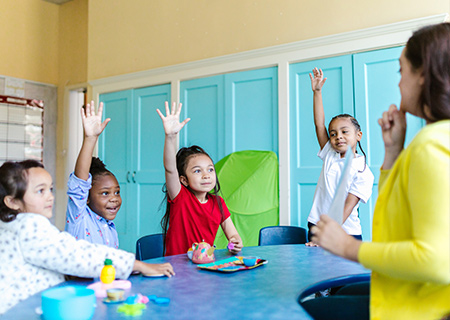 Contact Us
If you would like to contact us about a production you watched, please reach out on the channels listed at the bottom of the page. Send an email, write a comment, or draw a picture to let us know about your experience at one of our shows!
Mailing Address
Children's Theatre of Charlotte
300 E 7th St.
Charlotte, NC 28202
Attn: Box Office
  CCSS.ELA-LITERACY.L.(K-8).1: Demonstrate command of the conventions of standard English grammar and usage when writing or speaking.

  Goal LDC-13: Children use writing and other symbols to record information and communicate for a variety of purposes.