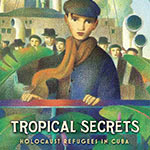 Tropical Secrets: Holocaust Refugees in Cuba
Streaming March 2021
on Broadway on Demand
For ages 8 and up
---
By Margarita Engle | Adapted for the stage by LM Feldman
This production is part of The Kindness Project
11-year-old Daniel has escaped Nazi Germany and finds himself alone on the shores of Havana, Cuba. He meets spirited 12-year-old Paloma who has some painful secrets of her own. Through their unlikely bond, she introduces Daniel to the language, music and history of Cuban culture. However, once Cuba enters the war these two young friends are faced with some dangerous choices that will ultimately test their friendship.
Themes: The Holocaust, Cuban history and culture, immigration, kindness
Pre-Order Now
---
How do I get started?
.
Purchase On Demand Access using the button above. All streams are $21.95 per household. If you are interested in purchasing for a school or group, please click here.
Stream on your Smart TV, computer, streaming device or mobile device on demand. For information on streaming on specific devices (Roku, Apple TV, Chromecast, etc.) see below.
Start, Stop, and Rewatch as many times as you want for 72 hours.
You'll need to create an account on
Broadway On Demand
. Don't panic! It only takes a minute to set up, and it's free. For tips on how to have the best viewing experience,
click here
. For Broadway On Demand customer and technical support,
click here
.
Broadway On Demand App Support
If you have Roku, you can add the BOD channel to your system. Click this link to navigate to the instructions. When ready, you will enter this channel code: C6D5MCH to add the BOD channel.
You can download the BOD app from the App Store on your Apple TV. Click this link to navigate directly to the App Store.
If your Smart TV has the Chromecast feature, you can cast content from the mobile app to your TV.
BOD does not have a Samsung TV app for BOD, but if your TV has SmartCast you can cast your content from a mobile app to your TV.