Our Commitment
Children's Theatre of Charlotte is committed to our mission and
The Kindness Project
that is at the heart of our work. Children have the right to explore the wonder of their world safely and confidently. We must all work together to have sympathy, create empathy, and be kind. Our children deserve a world without fear and worry. They deserve a world without racism and violence. In short, they deserve better.
Our Philosophy
Our staff and Board of Directors worked together to create this philosophy which serves as a guidepost for all we do.

Since the birth of Children's Theatre of Charlotte in 1948, we acknowledge that our world has been full of both conscious and unconscious bias, and often our work has reflected the systemic marginalization of people and their communities. Our hope is that by owning where we have been, we will more clearly embrace and understand how to serve every member of our community and center their voices.
As we inspire generations to explore the wonder of our world, we desire to see the diversity and amazing, expanding tapestry of this world and community reflected in all our programming, behind the scenes, and in our team members, board, and volunteers.
We recognize theatre as a means of holding up a mirror to society, and that everyone, regardless of their differences of identity, background, beliefs, and privilege should have the opportunity to see themselves reflected on stage, on staff, and in the audience.
We are proud to deepen our commitment to championing the movement for equity, diversity, and inclusion with the knowledge that we cannot do it alone and will dedicate time, talent, and resources necessary to ensure a more inclusive future at Children's Theatre of Charlotte.
Where we speak, we are also listening. Where we educate, we are also learning. Where we perform, we are also living in community with those around us.
We, as educators, artists, friends, and neighbors commit to a safe, welcoming, and culturally conscious environment for every child and their family, wherever our work takes us.
Our Goals & Accomplishments
There is vital work to be done, and we've developed actionable next steps around our people, practices and programs.

+

Reviewing and updating all hiring, recruiting and governing policies of staff, guest artists, actors, teaching artists, Board members and volunteers to ensure they are fair and equitable.

1) Nationwide searches are being utilized to "cast a wider net" for potential candidates of open positions. This is a significant change from previous recruitment efforts, which focused on identifying candidates within our network. Utilizing this process for our two most recent searches – of Managing Director and Camps and Community Programs Manager -- uncovered candidates we would not have encountered otherwise.
2) Search and hiring committees, comprised of staff and Board EDI committee members, have been formed internally to allow for feedback throughout the process.

 
---
+
Examining vendors and contracting with those that have anti-racism and/or anti-oppression policies and practices in place.
We've compiled a list and begun initial outreach to vendors and partners.
---
+
Providing staff with Equity, Diversity, and Inclusion (EDI) resources and additional training opportunities and making this learning and its implementation a part of employee expectations and evaluations.
1) Mandatory staff training sessions have been led by nationally-renowned EDI thought leaders. Sessions included topics such as bias, communication, and cultural competence.
2) Voluntary Lunch & Learn opportunities have been created to allow employees to share about various topics and foster conversations.
3) Several staff have participated in the 14-hour online certificate program for Diversity, Equity and Inclusion in the Workplace hosted by the University of South Florida Muma College of Business.
---
+
Continuously examining our community and ensuring our staff and Board are reflective and representative of our diverse population.
The Board of Directors has formed an EDI committee that partners with the Governance and Nominating Committee for the recruitment of new Board members. The EDI committee is creating a list of local chapters of professional affinity associations that will be shared with the Governance and Nominating Committee as a resource to identify a more diverse pool of potential Board candidates.
---
+
Continuing to develop culturally rich and dynamic programs on our stages, in our classes and within our community with a deepened/expanded collaborative network centering people of color.
Children's Theatre of Charlotte has been committed to serving the community for decades. With our Community Involvement Program, scholarship opportunities and reduced-cost ticket programs, we do our best to provide opportunities for engagement to everyone.

We recognize that as our community changes, we must change also. We are continuously working to become a more inclusive community partner and to help every child and family know that Children's Theatre of Charlotte is a place where they belong.

Our creative team remains committed to exploring and creating stories that share "lived experiences". A first-of-its kind offering, The Dot, tells the story of a girl named Vashti who discovers her artistic talent. This trunk show was created with the initial purpose of touring to preschools in financial need.
Be a Changemaker
We welcome your thoughts and support through this process. We know change often isn't easy and won't come quickly but is necessary. We must move forward together. As storytellers in the community, we have a unique platform to foster conversation among our children, families and neighbors. We hope you will join us as we create this story of change. If you have ideas to share, please contact
Nao Tsurumaki
, our Managing Director.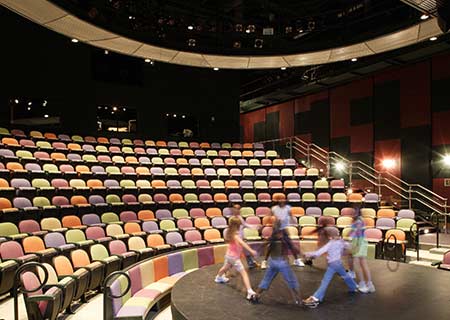 We're Here to Listen
To learn more about our efforts around Equity, Diversity and Inclusion please contact
Nao Tsurumaki
, our Managing Director.