About ImaginOn | Our home in Uptown
ImaginOn was created through a partnership of Children's Theatre of Charlotte and the Charlotte Mecklenburg Library. It now serves as a national model for integrating literacy, education and the performing arts, and has been named No. 1 in Livibility.com's list of the Top Ten Libraries for Children.
Visit ImaginOn's website!

Regular hours (fall, winter, spring)
| | | | | | | |
| --- | --- | --- | --- | --- | --- | --- |
| Monday | Tuesday | Wednesday | Thursday | Friday | Saturday | Sunday |
| 9 a.m. to 8 p.m. | 9 a.m. to 8 p.m. | 9 a.m. to 8 p.m. | 9 a.m. to 8 p.m. | 9 a.m. to 5 p.m. | 9 a.m. to 5 p.m. | 1 p.m. to 5 p.m. |
Summer hours
(roughly Memorial Day through Labor Day)
| | | | | | | |
| --- | --- | --- | --- | --- | --- | --- |
| Monday | Tuesday | Wednesday | Thursday | Friday | Saturday | Sunday |
| 9 a.m. to 8 p.m. | 9 a.m. to 8 p.m. | 9 a.m. to 8 p.m. | 9 a.m. to 8 p.m. | 9 a.m. to 5 p.m. | 9 a.m. to 5 p.m. | CLOSED |
Check out ImaginOn's calendar of activities
ImaginOn building hours do not affect Children's Theatre of Charlotte programs
, including scheduled public performances, school performances, classes, camps or other activities. 
Additionally, people needing to conduct business with Children's Theatre of Charlotte staff, or reach the box office, will be able to enter ImaginOn for this business on Mondays between 9 a.m. and 5 p.m. If the building is closed on a Monday, identify yourself to the ImaginOn security officer on duty who can let you in for this business.
The ImaginOn parking deck will remain open on Mondays, but if the building is closed because there are no public events, you will need to walk around to the main entrance on Seventh Street and identify yourself to the ImaginOn security officer on duty to enter the building (to reach Children's Theatre of Charlotte staff or the box office).
---
Watch an introductory video about ImaginOn:

---
ImaginOn's history
Plans for ImaginOn: The Joe & Joan Martin Center began in 1997 when two colleagues had an idea…

Bob Cannon, the former executive director of the Charlotte Mecklenburg Library (then known as the Public Library of Charlotte & Mecklenburg County, or PLCMC), and Bruce LaRowe, executive director of Children's Theatre of Charlotte (Children's Theatre of Charlotte) each led organizations with great programs for young people, and both were running out of space.

Cannon and LaRowe thought it would make sense to consider creating a new, shared facility, to meet the growing needs of both organizations. But not just a combination library/theatre – they imagined a new type of facility and an original approach to education, learning and the arts. The more they thought about the possibilities, the more they realized the Library & Children's Theatre of Charlotte shared much more than a need for more space – they also shared a powerful mission: bringing stories to life.

In early 2004, Library Director Charles Brown joined the library, and worked with LaRowe and dozens of Charlotte Mecklenburg Library and Children's Theatre of Charlotte staff members to ensure ImaginOn's success. At ImaginOn, young people learn in many ways, through all five senses and "from the page to the stage." It is the launching pad for remarkable journeys and endless possibilities

ImaginOn's mission
ImaginOn brings stories to life through extraordinary experiences that challenge, inspire and excite young minds.

ImaginOn timeline
August 1997: Children's Theatre of Charlotte and Charlotte Mecklenburg Library create the ImaginOn concept
November 1999: Voters approve bond funds for construction
October 2000: Hardy Holzman Pfeiffer of New York (now Holzman Moss) and Gantt Huberman of Charlotte selected as architects
December 2000: Launch of Programming Endowment Campaign led by Ken Lewis and Ed Shelton
March 2003: Groundbreaking
October 2005: Grand opening!

ImaginOn's partners
Children's Theatre of Charlotte
Founded in 1948, Children's Theatre of Charlotte has been opening young minds to the wonders of live theatre for more than half a century. Today, it continues to be one of the most technically imaginative and resourceful theatres in the country. Annually, it reaches more than 311,000 young people and families from preschool to late teens, with four strong program areas: MainStage productions; Resident Touring Company; Community Involvement Program, and a full scope of education classes and camps for ages 3 to 18. Children's Theatre of Charlotte's in-school and after-school programs place specialists in the region's classrooms to use drama as a vehicle for teaching core curricula subjects.
Charlotte Mecklenburg Library
Founded in 1903 as a Carnegie Free Library, the Charlotte Mecklenburg Library is one of the premiere library systems in the country, having received the 2006 National Award for Museum and Library Service for demonstrating a long-term commitment to public service through innovative programs and community partnerships. The Library also sponsors a variety of programs including the award-winning Novello Festival of Reading , a celebration that accentuates reading and learning with authors; the Gaming Zone, a video and tabletop program for all ages; and the World Language Center which extends access to language instruction materials.

Who Are Joe & Joan Martin?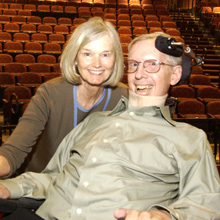 Joe and Joan Martin have been two of Charlotte's most passionately committed and inspirational residents, individuals who personify everything ImaginOn strives to be. Through the generosity of Bank of America, its support of the arts and education in Charlotte and beyond, is recognized and honored in the facility's formal name – ImaginOn: The Joe & Joan Martin Center.
Joe, a champion of racial and gender equity, enjoyed a heralded career with Bank of America, retiring in 2001. He is author of two books: "Fire in the Rock," a novel about growing up in the segregated South, and "On Any Given Day," his personal and touching account of living with ALS. Joe touched many lives – as a father, a mentor, a grandfather, brother, confidant, civic and church leader and husband. Joe passed away on July 1, 2006. He remains an inspiration to us all, in our work and in our lives.
Joan's commitment to our community has touched many lives as well, through her involvement in PTA, scouting, non-profit organizations and learning programs in public schools. For 25 years, Joan has been a devoted leader of the Learning Center and a teacher at Christ Church kindergarten. She carries many titles: mother, educator, grandmother, tutor, leader and wife. ImaginOn is proud to be associated with Joe and Joan Martin, and our mission will always be to uphold their ideals of service and commitment to young people and to the community.

ImaginOn is green!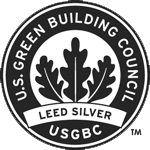 "Green" building projects are designed for both high performance and sustainability, resulting in environmental, economic, health and community benefits. ImaginOn is the first public building in Charlotte and Mecklenburg County certified by the
US Green Building Council
.
In spring, 2005 ImaginOn was recognized by the Mecklenburg County Recycling Program for its outstanding commitment to keeping green throughout the construction process. RodgersHardin, the general contractor for ImaginOn, recycled 100 percent of the waste generated during the demolition phase and 82 percent of the construction waste. Concrete, wood, drywall, metal and paper were all sorted onsite and recycled locally. Construction and demolition debris accounts for an estimated one-third of the overall waste stream in Mecklenburg County. For more information about "green" buildings,
go to the U.S. Green Building Council's website
.
In 2006, ImaginOn was awarded LEED (Leadership in Energy and Environmental Design) certification at the silver level. ImaginOn scored LEED points by documenting our construction process, making the building energy-efficient, using recycled or environmentally sustainable materials and educating the public about our efforts.