Summer Teen Studios
Rising 7th - 12th Grade | Offered In-person at ImaginOn and Charlotte Latin
Teen Studios meet Monday - Friday, 10:30 AM - 5:30 PM + added hours on show days for 2-week Studios | Tuition $310-$595
Our 1-week and 2-week studios offer teens an exciting and challenging experience in either performance or technical theatre training. Students are directed by professional theatre artists in their fields. NOTE: Our two-week studios include two public performances on the final weekend: Friday at 7 PM, and Saturday at 2 PM. Please make sure you can commit to those times before registering.
Studio Descriptions
1-week | On Broadway!
| Tuition $310
Students will dive into an intensive week of acting, voice, and movement while exploring some of Broadway's top musical hits. This week concludes with a showcase for family and friends.
---
2-week | Shakespeare's The Comedy of Errors
| Tuition $595
Welcome back to CTC, William Shakespeare! What's more fun than a play of humor coming from slapstick and mistaken identity, in addition to puns and word play? The studio concludes with two public performances.
---
2-week | Zombie Prom: Atomic Edition
| Tuition $595
Presented by arrangement with Concord Theatricals. www.concordtheatricals.com | Book and Lyrics by John Dempsey | Music by Dana P. Rowe | Adapted by Mac Tumminelli | Based on a story by John Dempsey and Hugh M. Murphy
This girl-loves-ghoul rock 'n' roll off-Broadway musical is set in the atomic 1950s at Enrico Fermi High, where the law is laid down by a zany, tyrannical principal. The studio concludes with two public performances.
---
2-week | The Hobbit
| Tuition $595
Produced by special arrangement with THE DRAMATIC PUBLISHING COMPANY of Woodstock, Illinois | ©MCMXCVI by Edward Mast | Based upon the work, "The Hobbit" by J.R.R. Tolkein | Printed in the United States of America | All Rights Reserved | (THE HOBBIT) Cover Design by Susan Carle
Travel from the Shire as we follow the epic quest of home-loving Bilbo Baggins, a dragon named Smaug, a wizard named Gandalf, and many more. The studio concludes with two public performances.
---
Tech Studios (offered in parallel with performance camps)
| Tuition $310 for 1-week or $595 for 2-week
Tech students explore and apply basic technical theatre skills which may include props, scenic painting, costumes, and stage management. Additionally, they serve as the running crew for the show.
Pick a start date to view studios offered that week:
Studio Sold Out?
Join Wait Pool
If a blue start time button is lighter in color and not active (not clickable), the studio is SOLD OUT. Join the wait pool and you will be notified if spots open up.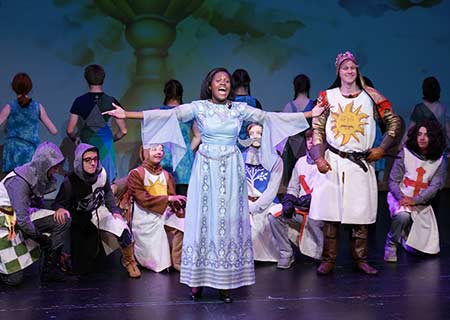 Additional Information