Individual & Family Giving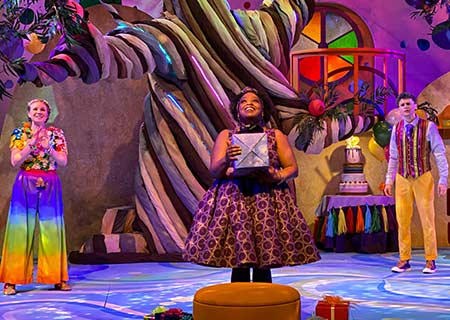 Your gift could have the following impact
on our stages, in our classrooms, and in our community.
---

$50/month
Provide a student with tuition for our Education camps and classes.
---

$100/month
Supply a Mainstage production with paint to create an enchanting backdrop.
---

$250/month
Fuel our Resident Touring Company to bring live theatre to rural communities.
---

$500/month
Support the creation of the magical Shrek dragon made by our puppet master.
---

$1,000/month
Send an entire grade level of Title 1 classrooms on a field trip to see a show.
---
---
2022-23 Giving Levels & Benefits
Click   to show / hide...
 Viewing on your phone? Turn your phone sideways (landscape) for a better experience.
 
$50-$499
$500-$999
Be included in the gratitude listing in our Annual Report and season playbills.
✓
✓
Receive a "snail mail" birthday card for your child/children.
✓
✓
Celebrate a child's birthday in our season playbills.
✓
✓
Receive priority access to tickets with premier seating.
 
✓
Invitation to pre-register for The Winter Wonderland Shop to secure the date and time that
works best for you and your kids.
 
✓
 Viewing on your phone? Turn your phone sideways (landscape) for a better experience.
In addition to the above Supporting Players Society benefits:
|   | $1,000-$2,999 | $3,000-$4,999 | $5,000-$9,999 | $10,000+ |
| --- | --- | --- | --- | --- |
| Give your child the opportunity to join the cast and crew as an Honorary Crew Member/Stage Manager by shadowing this team before a show (reservation required, limited availability). | ✓ | ✓ | ✓ | ✓ |
| Become a family sponsor of a Mainstage production or OnStage student performance. |   | ✓ | ✓ | ✓ |
| Give the gift that keeps giving by inviting a classroom or group of your choice to a performance, on the house. |   |   | ✓ | ✓ |
| Opportunity to customize benefits to fit you and your families wonder-filled wishes. |   |   |   | ✓ |
Gifts That Keep Giving
Click   to show / hide...
Did you know that most companies offer a matching gift program and will even match your personal gift at 100%? Why not double your donation.
Donor Advised Funds (DAF) are a personal charitable vehicle that are convenient for you and allow you to maximize your impact. By creating a DAF through a community foundation or financial institution, your contributions to 501(c)3 organizations will be easy and tax-efficient.
Publicly-traded securities are a great way to make an impact and benefit you. They are easy to transfer and value and typically result in tax advantage if donating before they are sold. Simply fill out this form and use the information below to initiate your stock transfer.
View Form
Do you want to see us celebrate another 75 years? Gifts made to our endowments allow a steady stream of support and kindness.
Provide a great impact for the future with no costs now. Your bequest or trust designation can be changed at any time and is typically not subject to federal estate tax. If you have Children's Theatre of Charlotte listed in your will, please let us know so we can recognize your generosity.
As housing continues to rapidly increase, you can support the Theatre while forming lifelong friendships! Nationally recognized guest artists, playwrights and other theatre professionals from all over the country come to work with CTC. Host one of our many visiting artists and get a behind the scenes look at how the magic happens!
Donate a gift in-kind for an event, auction item, production, or to support staff appreciation events. Your gift will be recognized and tax deductible at the fair market value.
This special endowment exists to center kindness and celebrate the retirement of our inspirational friend and arts colleague, Linda Reynolds. Linda was instrumental in launching The Kindness Project, an initiative to develop and commission original plays for young audiences that are grounded to actively displaying kindness towards others.
---
By making a gift today, you ensure that Linda's legacy and kindness endures into the future of our work.
The Paige Johnston Thomas Directing Assistantship provides access to a post undergraduate recipient the unique opportunity to gain educational and professional experience. A member of our artistic and creative teams, The Paige Johnston Thomas Directing Assistant is ingrained in the creative team and gains mentorship from season directors to lay the foundation for a healthy, successful career in directing.
---
Paige Johnston Thomas was an active and beloved member of our arts and culture community. Paige's legacy and profound influence in the arts lives on through this Directing Assistantship, which is funded by The Paige Johnston Thomas Giving Tree Foundation created in her memory.
---
By giving directly to this fund, your gift will allow us to continue to impact young artists by providing access and education.
To learn more about these giving opportunities, please contact Emily Chuma, Director of Development, 704-973-2801
---
Additional Information