ENCORE! Our volunteer organization
If you've ever shopped at Santa's Bag or gotten a helping hand finding your seat from a friendly usher, then you have met ENCORE!, one of the most active volunteer organizations in the local arts community. ENCORE! is comprised of more than 250 individuals of all ages and backgrounds who play a vital role in the theatre's success. In addition to ushering at performances, ENCORE! coordinates Santa's Bag, one of our largest annual fundraising and charity events. They also plan and host Children's Theatre's annual gala, Celebrate!, our annual Women's Doubles Tennis Tournament and other events throughout the year.
ENCORE! members enjoy special benefits, too, like priority processing for tickets and classes (see full list of benefits and requirements below).  
Meet and work with other volunteers with common interests.
Receive vouchers good for 4 tickets to any performance in the 2019-2020 season.
Opportunity to register for education classes and summer camps prior to the general public.
Private shopping hours for Santa's Bag.
Invitations to the following social events:

Santa's Bag
Membership Engagement Experience
Celebrate! – Children's Theatre of Charlotte Gala
Women's Doubles Tennis Tournament
Other social events during the season

Opportunity to work with one of the most successful and fun arts organizations in our community!
President:
Tammy Jones
President-Elect:
April Jones
Past President:
Nichelle Weintraub
Secretary:
April Whitlock
Advisory Council Chair:
Nichelle Weintraub
Join or Renew Online
2018-19 Annual Report (PDF)
IRS Form 990 (PDF)
Make a secure online donation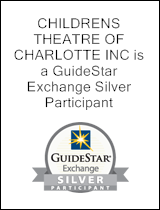 ---
Financial information about the organization and a copy of its license are available from the State Solicitation Licensing Branch at 1-888-830-4989. The license is not an endorsement by the State.