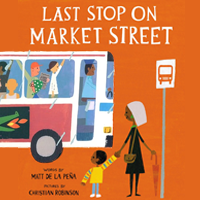 Last Stop on Market Street
Nov. 2 to Nov. 18, 2018
Wells Fargo Playhouse
Recommended for ages 6 and older
WORLD PREMIERE - Part of the Kindness Project
By Matt de la Pena, Illustrated by Christian Robinson | Winner of the 2016 Newbery Medal | Adapted for the stage by Gloria Bond Clunie
This adaptation of the New York Times-bestselling and Newbery Medal-winning book makes its world premiere! After church every Sunday, CJ and his Nana board the bus for a trip across town. But one day, CJ asks why don't they own a car like his friend Colby. Why doesn't he have an iPod like the other boys on the bus? And why do they have to make the same trip every Sunday? The book is brought vibrantly to life while expanding the original story, adding elements from CJ's imagination (like a bright blue dragon) even as he meets the real colorful characters that enliven his neighborhood. In this powerful look at the beauty all around us, Nana helps CJ begin to experience the world from a whole new perspective by teaching him to listen with more than just his ears.
►Click here
to view a special message from Matt de la Peña and Christian Robinson, author and illustrator of
The Last Stop on Market Stree
t.
Show Resource Guide

Theatre 360 extends the theatre experience with special programs tied to each production, from cast meet-and-greets to workshops and backstage tours. We also create a Resource Guide for each production, with background information on the production and creative activities for before and after the show.