School of Theatre Training
Sep 28, 2020 - Mar 13, 2021 | 5-week sessions
Learn More

We're Keeping You Safe - In light of the ongoing COVID-19 pandemic, 2020-21 Private Voice Lessons will take place via Zoom.
Private Voice Lessons | 5th - 12th Grade | Tuition: $250/session
Offered Online Via Zoom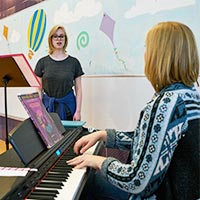 Students receive five half-hour lessons taught one-on-one with our vocal performance professionals. Students focus on resonance, breath control, intonation and development of their higher and lower registers. Additionally, tips for good vocal health are covered to prevent damage to the vocal cords. Whether they are new to singing or need coaching for an audition, this is a great way to maximize the singer's vocal performance!