School of Theatre Training
Fall 2020 | Registration dates will be announced soon.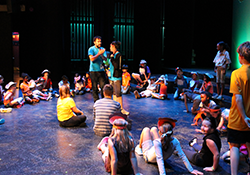 School of Theatre Training (SOTT) is a comprehensive 20-week program for studying the skills and techniques of acting and musical theatre. Class offerings vary at every age level, guaranteeing there is an entry point for your student in the progression of classes.
Our curriculum is structured around the Stanislavski System, a method of performing truthfully onstage through a created set of imaginary circumstances. Telling an authentic story is part of our mission, and our teaching artists provide the tools to tell that story and meet the students "right where they are" in their development.
Every session ends with a showcase for families and friends to see the materials SOTT students have explored throughout the year. Demonstrations of exercises and activities facilitated by both students and the teaching artists surround selections of monologues, scenes and songs.
Every SOTT student is given a mid-point and end-of-year evaluation written by their teaching artist to track progress throughout the class. Additionally, class recommendations are given for the following year.
OnStage is an opportunity for SOTT students to apply their skills in a professional theatre experience.
We offer a limited amount of full and partial scholarships for tuition for classes.
For a more information about the program, read through the SOTT Handbook.
View Schedule
Class Schedule - This PDF shows the days and times of our School of Theatre Training classes.
Open Enrollment | No audition required
These classes are available to all interested students; and include acting or musical theatre tracks. Students in these classes may enroll for multiple years at the Focus level before they are given a recommendation for Conservatory classes.
Foundations
| Grades 3-12 | For students who are new to the SOTT program
Core
| Grades 4-12 | For students who have completed a Foundations class
Focus
| Grades 5-12 | For students who have completed a Core class
Conservatory | Audition required
These classes are available by audition only and require outside assignments with a more rigorous commitment. Classes are conducted by a small group of master teaching artists, which allows for an in depth, yet flexible curriculum that meets the individualized needs of each student.
Dance and movement training is an essential part of an actor's development. Conservatory students are required to either take dance classes provided by Children's Theatre of Charlotte's or provide a record for an outside equivalent class.
Learn More
OnStage | A professional theatre experience
OnStage bridges the student's work in our classrooms with a professional theatre experience. This program is only open to students who enroll in School of Theatre Training. This performance experience affords students the opportunity to bring their training and talent to the stage and work alongside professional directors and designers.
This intensive five-week program occurs every spring and requires commitment from both students and parents. Open Enrollment students participate in a lottery to receive placement in OnStage. Conservatory students are exempt from the lottery and receive early registration into the program.
Learn More