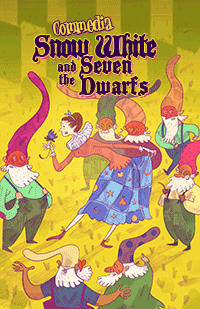 Commedia Snow White and the Seven Dwarfs
WORLD PREMIERE!
Jan. 14 to Jan. 28, 2017
Wells Fargo Playhouse
Recommended for ages 4 and older
Written by Nicole B. Adkins
A rambunctious group of travelling actors decides to perform the famous fairy tale by the Brothers Grimm. This commedia dell'arte performance features actors in exaggerated masks recreating the story of "Snow White and the Seven Dwarfs", complete with slapstick comedy and a healthy dose of silliness. This world-premiere comedy will have kids and parents in stitches!

This show is available in our subscription packages.
Click here for details.
Online Study Guide Activities