The Invisible Boy Watch Party - Miss our live stream? Don't worry - the video will be available here on demand Monday, April 20 through Friday, April 24. Teachers: be sure to take advantage of the resource guide (link below)!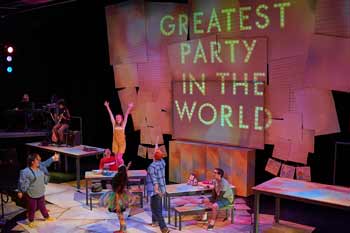 Here's a great at-home activity for you and your family. Vist this page now through April 24 and watch a recorded presentation of "The Invisible Boy," our critically-acclaimed, world premiere musical production from earlier this season. This charming, uplifting story shows that "an act of kindness opens a world of possibilities..." (
The Charlotte Observer
).
---
This story of kindness shows that the smallest gestures often have the biggest impact.
Meet Brian. No one notices him. No one includes him. He just feels invisible. But everything suddenly changes when a new student named Justin arrives. A bit of creativity helps form a new friendship, unleashing Brian's lively personality and vivid imagination. This high-spirited musical, complete with fun songs and heartfelt humor, will help us all discover the possibilities that begin with a simple act of kindness.  
Themes
: acceptance, kindness, self-esteem, exclusion and inclusion.
Book written by Trudy Ludwig, Illustrated by Patrice Barton | Adapted for the stage by Christopher Parks | Composed for the stage by Josh Totora
Watch the full production now through April 24:
If you'd like to support more great theatre programming for kids,
►CLICK HERE
to make a secure online donation.