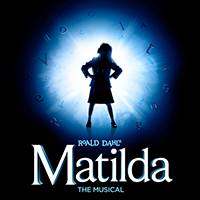 Roald Dahl's Matilda The Musical
Sept. 28 to Oct. 21, 2018
McColl Family Theatre
Recommended for ages 6 and older

 Runtime 2 1/2 hours, inclusive of one 15-minute intermission
Book by Dennis Kelly | Music & Lyrics by Tim Minchin | Orchestrations and Additional Music by Chris Nightingale | Roald Dahl's Matilda the Musical is presented through special arrangement with Music Theatre International (MTI). All authorized performance materials are also supplied by MTI. www.MTIShows.com
Based on Roald Dahl's classic children's book, this full-length Tony Award-winning Broadway musical follows Matilda Wormwood, a precocious – and powerful – girl who immerses herself in books. Unfortunately, Matilda's parents don't understand why she'd rather read than watch television. Even worse, the headmistress at her school, Miss Trunchbull, a wicked and outrageous beast of a woman, intends to make Matilda's life miserable. Matilda uses the magical powers she discovers within herself to create a better life for both her and her loving protector and teacher, Miss Honey.
A note on content in the show:
This production is the Broadway version of
Roald Dahl's Matilda the Musical
. At one point in the story Mrs. Wormwood says, "Oh, bloody hell" in response to a comment from the Doctor. In some scenes, Matilda and other children experience insults and bullying language from some of the adults.
►CLICK HERE
to watch some video highlights from the show!
Part of the Dreamer package
Part of the Adventurer package
Theatre 360 Info
Show Resource Guide

Theatre 360 extends the theatre experience with special programs tied to each production, from cast meet-and-greets to workshops and backstage tours. We also create a Resource Guide for each production, with background information on the production and creative activities for before and after the show.