School of Theatre Training | Core 
4th - 12th Grade | Offered at ImaginOn | Tuition $250 | 10-weeks
For students who complete a Foundations class. Students can spend many years developing their "actor's tools" in these 10-week classes. While the class titles stay the same each year, different materials including scripts, songs, monologues and scenes will be introduced. Our 2023-24 SOTT classes will go on sale to our Donors ($500+ level) on May 9; for our season subscribers and current education families on May 11; and to the general public on May 18. Class titles below subject to change.
---
Musical Theatre Dance
Explore the storytelling of dance in large and small group musical theatre numbers while developing body and spatial awareness.
Musical Theatre Auditions
Students will begin by creating "song-a-logues" in class, while also developing their 16-32 bar cut of a song for a musical theatre audition.
Audition Monologues
Students will learn how to create "beats of action" in performance, while also developing their 60-second monologues for audition.
Scenes from a Play
Dive into a script and explore the smaller scenes that make up the larger story. This class is a fun exploration of script analysis!
Creating Characters
Every good story has a strong character at its center. In this class you'll learn the elements of developing vibrant characters for the stage.
---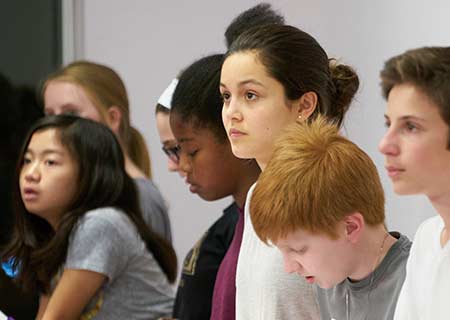 Additional Information
---
Filter results by clicking on a class name and/or student's grade, which will reload this page: