Dance Classes
5th - 12th Grade | Offered at ImaginOn | Tuition $175-$450 | 10-weeks & 20-weeks
Consistent dance or movement training is critical to an actor's development, and it can be overwhelming when taking those first steps. Our dance classes have the beginner in mind, so students feel more confident with terminology and choreography. These classes can be taken multiple times while the student develops their dance technique. Our 2023-24 dance classes will go on sale to our Donors ($500+ level) on May 9; for our season subscribers and current education families on May 11; and to the general public on May 18. Class titles below subject to change.
♦ Registration in these classes will also allow a student to enter the lottery for
OnStage.
---
Beginning Broadway Dance
5th-12th Grade | $250 | 10-weeks
You'll have a blast, mixing elements from ballet and jazz styles! Students will increase body awareness while exploring across-the-floor exercises and dance combinations.
Intermediate Broadway Dance
5th-12th Grade | $250 | 10-weeks
Looking for that next leg up? Build on the skills from our beginner class while exploring more challenging combinations and "telling a story through dance."
---
Beginning Tap
5th-12th Grade | $175 | 10-weeks
Tap classes develop rhythm and musicality. Students will learn basic technique while exploring Broadway and rhythm styles. Learn how to make that "tap sound!"
Intermediate Tap
5th-12th Grade | $175 | 10-weeks
Step up your technique, rhythm and speed after learning the basics. Students will explore new combinations, and put them all together into short routines.
---
Beginning Ballet
5th-12th Grade | $450 | 20-weeks
In this foundational class, students learn beginner ballet technique, including barre and floorwork. Students will develop proper body alignment with increased strength and flexibility.
---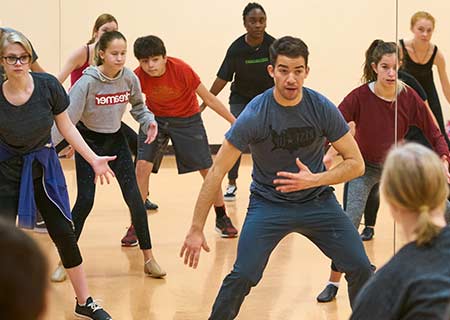 Additional Information