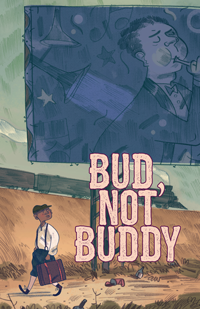 Bud, Not Buddy
March 24 - April 9, 2017
Wells Fargo Playhouse
Recommended for ages 8 and older
Adapted by Reginald André Jackson
From the novel by Christopher Paul Curtis
Based on the Newbery Medal-winning and Coretta Scott King Award-winning novel by Christopher Paul Curtis, "Bud, Not Buddy" is a coming-of-age story that will fill your heart with hope. Set in Depression-era Michigan, Bud Caldwell is 10 years old, and is tired of living life as an orphan. He decides to set off on his own on a courageous journey to find the man he thinks is his father. But the only evidence Bud has is a picture of a man on jazz concert advertisements his mom used to keep around the house before she died. Come along on this journey with Bud, as he finds the true meaning of family.

This show is available in our subscription packages.
Click here for details.
---