Dragons Love Tacos
By Ernie Nolan
Based on the book by Adam Rubin with illustrations by Daniel Salmieri
Published by Penguin Group
Produced by special arrangement with Plays for New Audiences
A humorous dragon tale with fiery consequences.
Feb 11 - Mar 6, 2022 | McColl Family Theatre | For ages 4 and up
What could go wrong when you give a dragon spicy salsa? EVERYTHING. The #1 New York Times bestselling phenomenon comes to life in a big way as the taco party of all taco parties literally brings down the house. This deliciously funny story will have you laughing out loud and wishing you read the fine print more closely: Now Made with Spicy Jalapeño Peppers.
Themes: Traditions, new friends, likes and dislikes
View Playbill
Click dates in blue to see show times.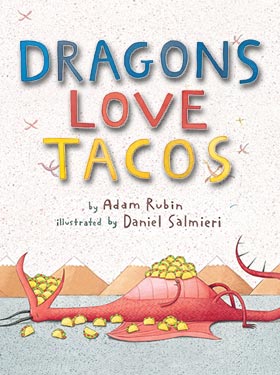 Links & Resources
Special Activities
Ongoing
Dragons Love Tacos BookWalk, a self-guided, building-wide scavenger hunt. Info available at the ImaginOn Welcome Desk.
Taco Trucks!
Sat, Feb 26, 11 AM - 3 PM - Street Tacos Food Truck
Sat, Mar 5, 11 AM - 3 PM - International Truck of Tacos
Saturdays, Feb 12 - Mar 5, Noon - 3 PM
Saturday, Feb 26, 3 PM show
2 PM - Backstage tour before the show (meet at the ImaginOn Welcome Desk).
2:15 PM - Draw Your Dragon Activity in the lobby.
Demonstration after the show.