A Sick Day for Amos McGee
Written by Philip C. Stead and Illustrated by Erin E. Stead | Adapted for the stage by Nicole B. Adkins
Text © 2010 by Philip Stead, Illustrations © 2010 by Erin Stead | Published by Neal Porter Books / Roaring Brook Press | 2011 Caldecott Medal winner
Friendship can be the best medicine when you're feeling blue.
Aug 25 - Sept 4, 2022 | Wells Fargo Playhouse | For PreK
Friends come in all sorts of shapes and sizes. In this heart-warming story about the joys of friendship, zookeeper Amos McGee knows friends can come in all sorts of species, too. Every day, Amos visits his animal friends at the zoo, running races with the tortoise, caring for a particularly shy penguin, and reading stories to an owl. One day, Amos is too sick to visit his zoo friends, but, fortunately, the animals know just what to do. Part of
The Kindness Project
.
Themes: Compassion, friendship, kindness
Watch a Preview
View Playbill
---
Learn More
Subscribe and Save!
Save 20% off single ticket prices by bundling 3+ shows. Click on a date below to see show times.
---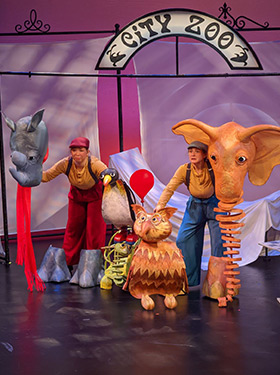 Special Activities
BookWalk - self-guided "scavenger hunt."
Explore ImaginOn and discover the pages of "A Sick Day for Amos McGee" by Philip and Erin Stead located in frames around the building. Library staff can offer clues or hints, and prizes are available at the Spangler desk for participation, regardless of completion.
Links & Resources