Children's Theatre of Charlotte offers a sensory-friendly show for most of our Mainstage productions, designed and modified for families and friends with children or adults on the autism spectrum or with other sensory sensitivities. These shows feature:
Softened theatre lighting & sound
Dimmed house lights that remain on
Extra room in the house to move around as needed
Quiet spaces and headphones
Fidgets and other sensory objects
Through our exclusive partnership with
Autism Strong Foundation,
families with members on the autism spectrum and those with other sensory sensitivities have access to tickets free of charge (maximum 6 tickets per show). This provides access to all sensory-friendly shows throughout the 2023-24 season.
---
Social Story
A social story is a visual and narrative-based tool that helps children or adults on the autism spectrum or with other sensory sensitivities better understand and navigate various social situations or new experiences.
Social stories are designed to provide clear, concise, and structured explanations of specific events, in this case coming to one of our Sensory-Friendly Performances, using simple language and visual supports.
View Story
---
Show Sold Out?
Join Waitlist
---
Sensory-Friendly Shows: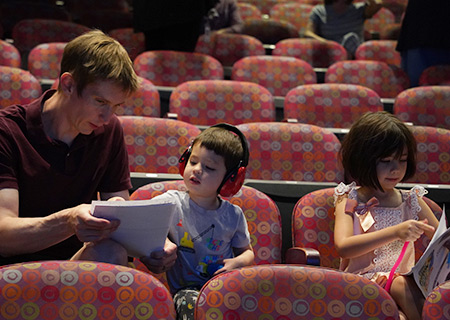 If you require special assistance during your visit, consider contacting us in advance at 704-973-2828 (12-5 PM, Mon - Fri) or by emailing the
Box Office
so we may provide the best possible experience for you and your family.
---
Sensory-Friendly Show Guides
Parent and Child Guides for our Sensory-Friendly shows will be posted here as they are created throughout the season. See
Annie
guides below from our 2022-23 Season as samples.
Annie - Parent Guide
---
Annie - Child Guide