Touring Productions
Touring shows will resume in January 2022. We will begin taking reservations on Tues, Aug 24, 2021. Details for the season will be posted in mid-July. Please check back soon.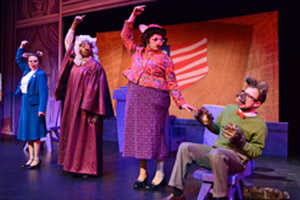 ---
Our Resident Touring Company has performed for more than one million children, in schools, community centers – towns big and small – across the Southeast, bringing smiles (and maybe a tear or two) to the faces of everyone it meets. Children's Theatre of Charlotte touring shows offer a completely self-sufficient, "turn-key" experience. The touring company handles all set-up & breakdown and is used to performing in a variety of spaces and situations.
What we offer...
High-quality productions of classics, musicals and new works performed by professional actors
Competitive pricing structure with savings available on multiple bookings
Convenient set up including load-in, assembly and breakdown by the actors
Flexible at performing in various venues (gyms, multi-purpose rooms and other "non-stage" spaces)
Comprehensive curriculum guide for teachers with pre-show and post-show activities
What Audiences Are Saying:
Love the diversity of the show!
- Benton Heights Elementary in Monroe, NC
As Arts Coordinator for a school district, I love most that the entire presentation is self-sufficient
.
-  Lancaster County Schools in SC
Excellent show, very well acted and very professionally executed.
- Phillips Middle School in Chapel Hill, NC
The production offered so many incredible "punches". I have no idea how you all were so smooth in delivering them to a fleet of 3rd, 4th, and 5th graders … the MESSAGE was spot on...
- Pinnacle Academy in Shelby, NC
The show lined up exactly with our empathy curriculum and everyone is singing your praises ... kids, teachers, principals!
- Lacy Elementary in Raleigh, NC
Our students went home with some great life lessons from the show.
- Alamance Arts Council in Graham, NC
I am thrilled to be able to offer such quality performances to our community. It is so important that the children in our area have an opportunity to be exposed to the cultural arts.
- Jacksonville Onslow Council for the Arts in Jacksonville, NC
My class agreed it was the best play they had ever seen. My students and I used the resource guide to prepare ... we discussed the creativity of presenting a whole play with only 4 people.
- Kensington Elementary in Waxhaw, NC
Amazing show! Things were well organized and the time frame was just right, too!
- Stallings Elementary in Stallings, NC