Mini-Camps |

Daily and weekly experiences
Kindergarten-5th Grade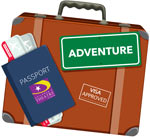 Your Passport to Learning and FUN!
Our NEW week-long Mini-Camps will provide a resource for families looking for creative solutions this school year.  Combining supervised time for school curriculum and fun theatre activities led by our teaching artists, these camps will to take your student places they wouldn't dream possible. Each week explores a new theme. Explore villages and cultures across the African plains. Set sail on the high seas in search of treasure. Marvel at circus life under the big top.
All Mini-Camps include...

• Flexible drop-off as early as 7:30 AM
• Remote Learning facilitation and technical assistance on your child's school schedule
• Supervised independent schoolwork opportunities
• Theatre Enrichment throughout day during downtime
• Educational group activities and casual movie screenings during pick-up - as late as 5:30 PM
Register for individual camps for $70/day, or purchase the entire week for $280 (a 20% savings!). Our creative and cost effective solutions are designed to help you balance the challenges of school and work schedules while providing an engaging and safe environment for your child to explore.
Learn More

We're Keeping You Safe - We've introduced enhanced safety and social distancing guidelines for all our Mini-Camps, along with new cleaning and disinfecting schedules.
Masks required for all staff & students
9:1 student/teacher ratios
Group singing replaced with Dance/Movement for Musical Theatre
Note for Parents: When purchasing a Mini-Camp or Mini-Camp Week, you will need to create one order per child, so we may obtain specific information on the child such as age, preferred name, food allergies, etc. You may have several Mini-Camps or Weeks in the same order, as long as they are all for the same child. If you have any questions please email the Box Office.
Mini-Camp Week 1: Passport Under the Sea  -

August 31 - September 4, 2020
Underwater adventures await as students swim with sea creatures and discover oceans of fun.
Children's Books Explored: To the Sea (Cole Atkinson) | Blobfish Throws a Party (Miranda Paul) | Herman the Helper (Robert Kraus) | Henny Penny Lenny Denny and Mike (Cynthia Rylant and Mike Austin) | The Great Googly Moogly (Courtney Dicmas) 
Mini-Camp Week 2: Passport to the Campground  -

September 8-11, 2020
Grab your backpack and set up your tent with us in this week as we bring the fun of the outdoors inside with theatre activities and campfire stories.
Children's Books Explored: When You Are Camping (Anne Lee) | Camping Day (Patricia Lakin) | A Camping Spree with Mr. Magee (Chris Van Dusen) | Millie Fierce Sleeps Out (Jane Manning)
Mini-Camp Week 3: Passport to the Jungle  -

September 14-18, 2020 
Join the safari as jungle animals come to life in this week of theatre exploration.
Children's Books Explored: What to Do if an Elephant Stands on Your Foot (Michelle Robinson) | Hiccupotamus (Steve Smallman) | There Was an Old Monkey Who Swallowed a Frog (Jennifer Ward) | A Mighty Bitey Creature (Ronda Armitage) | Maxwell the Monkey Barber (Cale Atkinson) | How to Find an Elephant (Kate Banks) | Monkey Time (Michael Hall) | I Am a Tiger (Karl Newson)
Mini-Camp Week 4: Passport to the Land of Fairytales  -

September 21-25, 2020 
Bring your favorite fairytales to life with storybooks and theatre activities for all!
Children's Books Explored: The Most Fabulous Fairytale (Alice Kuipers) | Mary Had a Little Glam (Tammi Sauer) | Once Upon a Goat (Dan Richards) | Giant Tess (Dan Yaccarino) | The Child Cruncher (Mathilde Stein) | The Giant of Jum (Elli Woollard) | The Princess and the Pit Stop (Tom Angleberger)
Mini-Camp Week 5: Passport to Africa -

September 28 – October 2, 2020 
Explore villages and cultures across the African plains through delightful and inspiring children's stories and the magic of theatre.
Children's Books Explored: The Water Princess | When Stars Are Scattered | Emmanuel's Dream | Imani's Moon | The Boy Who Harnessed the Wind | Pretty Salma | Abike All Over | Welcome to Zanzibar Road | Wangari's Trees of Peace | Mama Panya's Pancakes | Mufaro's Beautiful Daughters | Catch That Chicken | We All Went on Safari | Galimoto
Mini-Camp Week 6: Passport to the High Seas  -

October 5-9, 2020 
Pirates and treasure maps abound as we set sail for theatre adventures!
Children's Books Explored: Prince and the Pirate | Rowdy the Pirate Who Could Not Sleep | The Castaway Pirates | How I Became a Pirate | Small Saul | The Treasure of Pirate Frank
Mini-Camp Week 7: Passport to Wizardry School -

October 12-16, 2020 
Theatre magic brews as students mix their potions and search for fantastic beasts!
Mini-Camp Week 8: Passport to India  -

October 19-23, 2020 
Step into India's rich culture and meet colorful storybook characters along the way through theatre fun!
Children's Books Explored: Ganesha's Sweet Tooth | The Road to Mumbai | Lots of Lights | Thread of Love | Diwali | Festival of Colors | The Drum, a Folktale from India | Get Off That Camel! | Grandma and the Great Gourd | Finders Keepers? A Bus trip In India | Chachaji's Cup
Mini-Camp Week 9: Passport to Spookytown -

October 26-30, 2020 
Scare up some fun this Halloween week with spooky stories and theatre tricks and treats.
Children's Books Explored: Creepy Carrots (Aaron Reynolds) | Click Clack Boo! (Doreen Cronin) | Pete the Cat: Five Little Pumpkins (James Dean) | Pete the Cat: Trick or Pete (James Dean) | The Vanishing Pumpkin (Tony Johnston) | Eek! Halloween! (Sandra Boynton) | Little Boo (Stephen Wunderli)
Mini-Camp Week 10: Passport to Vote -

November 2-6, 2020 
Come join this "political party" and celebrate the election year with theatre games and activities for all!
Children's Books Explored: Grace for President (Kelly DiPucchio) | Grace Goes to Washington (Kelly DIPucchio) | If I Ran for President | Vote for Me! | Monster Needs Your Vote | Duck for President (Doreen Cronin) | The Night Before Election Day (Natasha Wing)
Mini-Camp Week 11: Passport to Fall  -

November 9-13, 2020 
 "Leaf" your worries behind, as you step into theatre stories and games all about the season!
Children's Books Explored: The Little Yellow Leaf (Carin Berger) | There Was an Old Lady Who Swallowed Some Leaves (Lucille Colandro) | Mouse's First Fall (Laura Thompson) | Fletcher and the Falling Leaves (Julia Rawlinson) | Leaves (David Ezra Stein) | Busy Little Squirrel (Nancy Tafuri) | When the Leaf Blew In (Steve Metzger)
---