The Kindness Project 
We asked you to share stories of kindness from your everyday life. Read on and see how people like you are helping make the world a more kind and loving place!

Featured Story - The Buddy Bench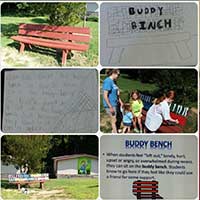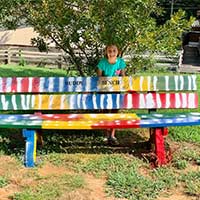 Last spring my granddaughter and her friend (2
nd
graders) requested an appointment with the principal. They shared with her their idea for a "Buddy Bench" on the playground. This would be a place to go when students feel "left out," lonely, hurt, upset or angry, or just overwhelmed during recess. Students will know to go here if they feel like they could use a friend for some support. The girls won the "Principal's Award" and this summer painted their Buddy Bench, so it was ready when school starts!
- Submitted by Deborah Wallace, Charlotte
Share Your Story of Kindness
What is The Kindness Project?
The Kindness Project is an initiative from Children's Theatre of Charlotte to develop and commission original plays for young audiences that are grounded in actively displaying kindness toward others. So far, Children's Theatre of Charlotte has commissioned Last Stop on Market Street, A Sick Day for Amos McGee, The Invisible Boy, and Tropical Secrets: Holocaust Refugees in Cuba as part of The Kindness Project.

Why did Children's Theatre of Charlotte start The Kindness Project?
Hostility, it seems, is everywhere. It's yelling from our TV screens, drowning out others on our social media feeds and darkening many of our conversations. We want to help bring kindness front and center(stage) with a new multiyear endeavor.

How can I get involved with The Kindness Project?
As The Kindness Project blossoms, grows and spreads far and wide, there will be multiple ways for you to help! We've created The Kindness Project bracelets we hope you'll wear and post to your favorite social media platform with a note about how you've woven kindness into your life. Use #CTCKindnessProject so we can share the photos too!